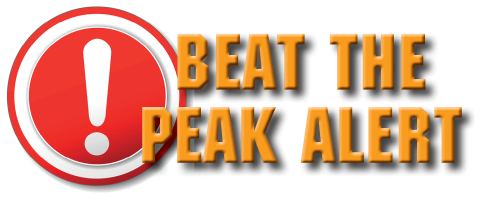 Enroll to receive Beat the Peak alerts and reduce electricity when demand and price are high
We'll send you a Beat the Peak Alert by text, email and/or phone message asking you to reduce electricity when demand and price are high. Peak demand most often occurs from 1 to 6 p.m. on the hottest days of summer and from 6:55 to 10:55 a.m. the coldest mornings of winter.
You'll see no more than nine peak demand days in the summer and seven in the winter. 
Why?
Reducing peak demand helps reduce the wholesale price Polk-Burnett pays for electricity. The savings benefits everyone! Reducing our wholesale power costs helps hold your energy rate steady and reduces the need for power generation.
Your participation is voluntary and will not affect your current electric bill, but it is important.
Every little bit helps keep energy costs more affordable and reduces carbon emissions for the future.
How? It's easy!
Reduce electricity during peak periods

Raise your thermostat 4 degrees in the summer, lower it in the winter.

Wash laundry and dishes before or after peak periods.

Shut off lights and electronics.

Use solar powered clothes line to dry clothes.

Use grill or microwave for cooking, instead of oven and stove in the summer.

Avoid watering outside and running your well during peak times.

Check for air leaks and caulk around doors, windows and wherever pipes and wires enter the house.
---
Off-Peak Members
If you're on Polk-Burnett's off-peak program and would like to receive notifications when your electric heat will be controlled, please complete our Load Control Notification form.
Find more ways to lower your energy bill on our website or give us a call. We're happy to assist, 800-421-0283, ext. 595.