Polk-Burnett Electric Cooperative Timeline
1930s
1935
President Franklin D. Roosevelt establishes the Rural Electrification Administration (REA).

1938
Polk-Burnett Electric Cooperative is officially formed in June. Articles of Incorporation are filed with the Secretary of State and 45 area residents attend the first membership meeting.

In September, the first loan requests are made to the REA for $196,000 to build 176 miles of line, and the co-op board moves to establish an office in the old jail building in Balsam Lake.

On October 3, co-op directors hire the first full-time employee, Edith Moline, of West Sweden Township, to do stenographic work. By the October meeting, the board received word from the REA that an allotment of $196,000 had been made to Polk-Burnett Electric Cooperative. Co-op line construction begins in Eureka, Milltown, Georgetown, Johnston, Beaver, Apple River, Balsam Lake, St. Croix Falls, Osceola, Garfield, Lincoln, Black Brook and Alden.

1939
On July 27, Ole and Minnie Stoen are the first members energized. 461 other members are connected that year. Members are charged 10 cents per kWh, with each member using an average of 55 kWh per month. The average monthly bill is $4.08. An Energization Celebration is held on September 13 at the Balsam Lake Park. The celebration draws a crowd of about 1,500 people from all parts of the two-county area. Local schools are reportedly closed so children could attend.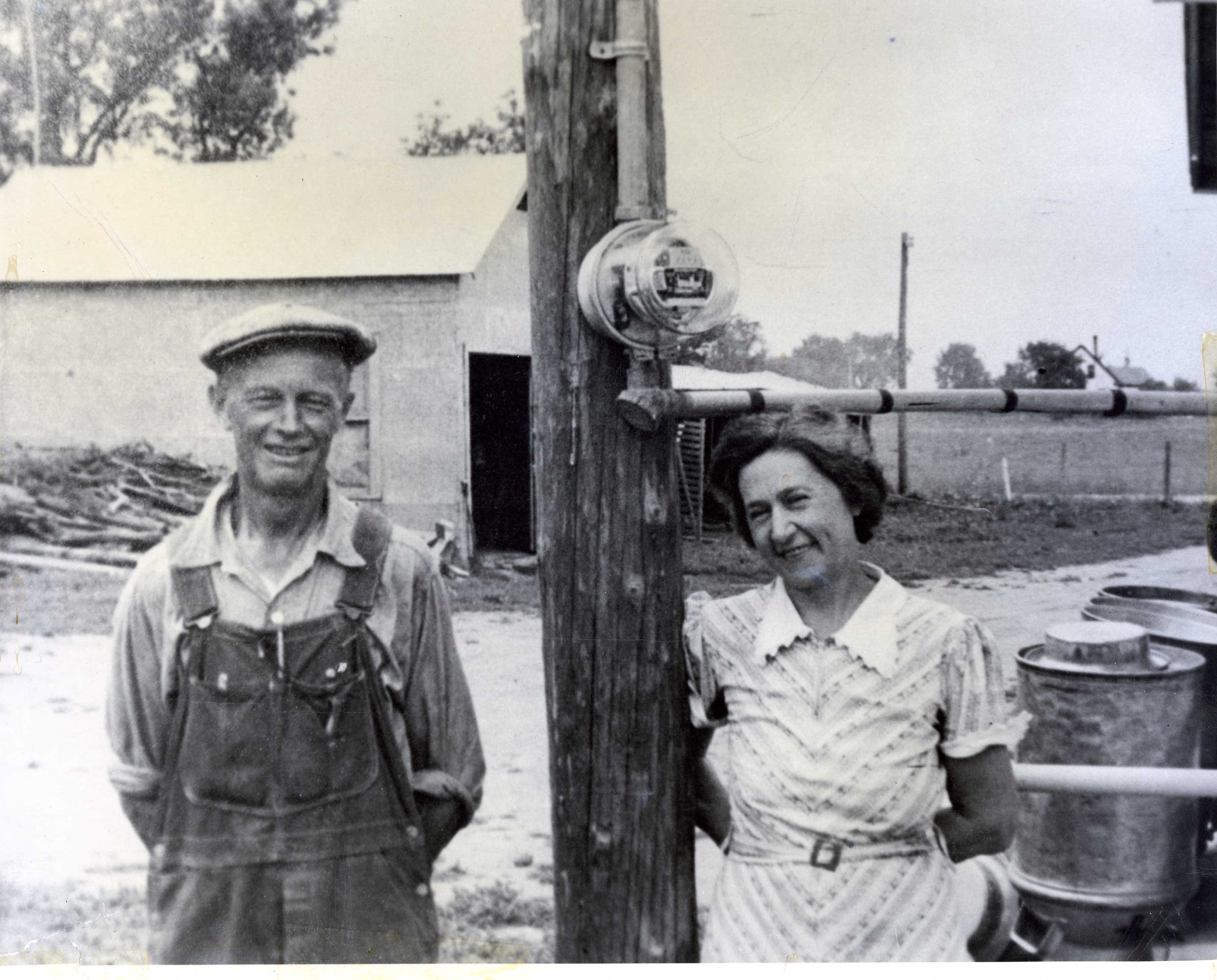 1940s
1940
On January 2, the office headquarters was moved to the Wells Building in Centuria, where there was more adequate office and garage space, and easy access to the railroad facilities. There are now six employees.

On September 14, William Holt of Laketown is connected – the 1,000th member to receive service.

1941
A third construction contract brings another 202 miles of line further northeast. When it is completed on October 3, it brings the total mileage built under contract to 682, serving 1,750 members. At the same time, World War II brought any large extension projects to a halt.

1945
The cooperative has grown to 2,300 members and 750 miles of line.

1946: The offices of the co-op are moved to the Erickson residence in Centuria, which the cooperative purchased on January 10. A garage and large warehouse are built behind the house a few years later.

By the end of 1946, there are 2,460 connected services; 2,050 are farms and residences.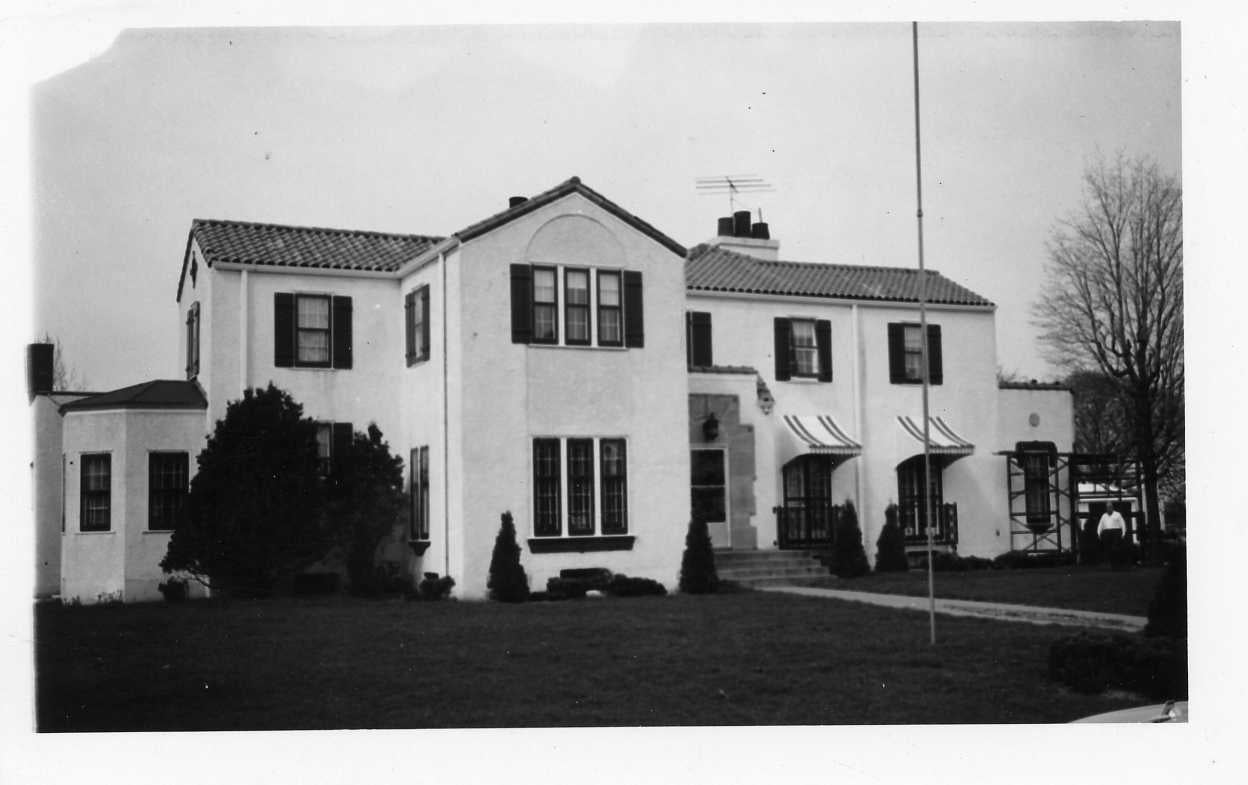 1950s
1950
The United States Air Force Station is built and is easily the largest user of electric energy connected to the co-op system thus far.

At the end of 1950 the average number of kWh consumed per month has risen to 175 and 4,240 members are being served.

1955
By December, there are 5,000 members on 1,532 miles of line. The average member consumption is 283 kWh and the average monthly bill is $9.17 per month. Employees number 25.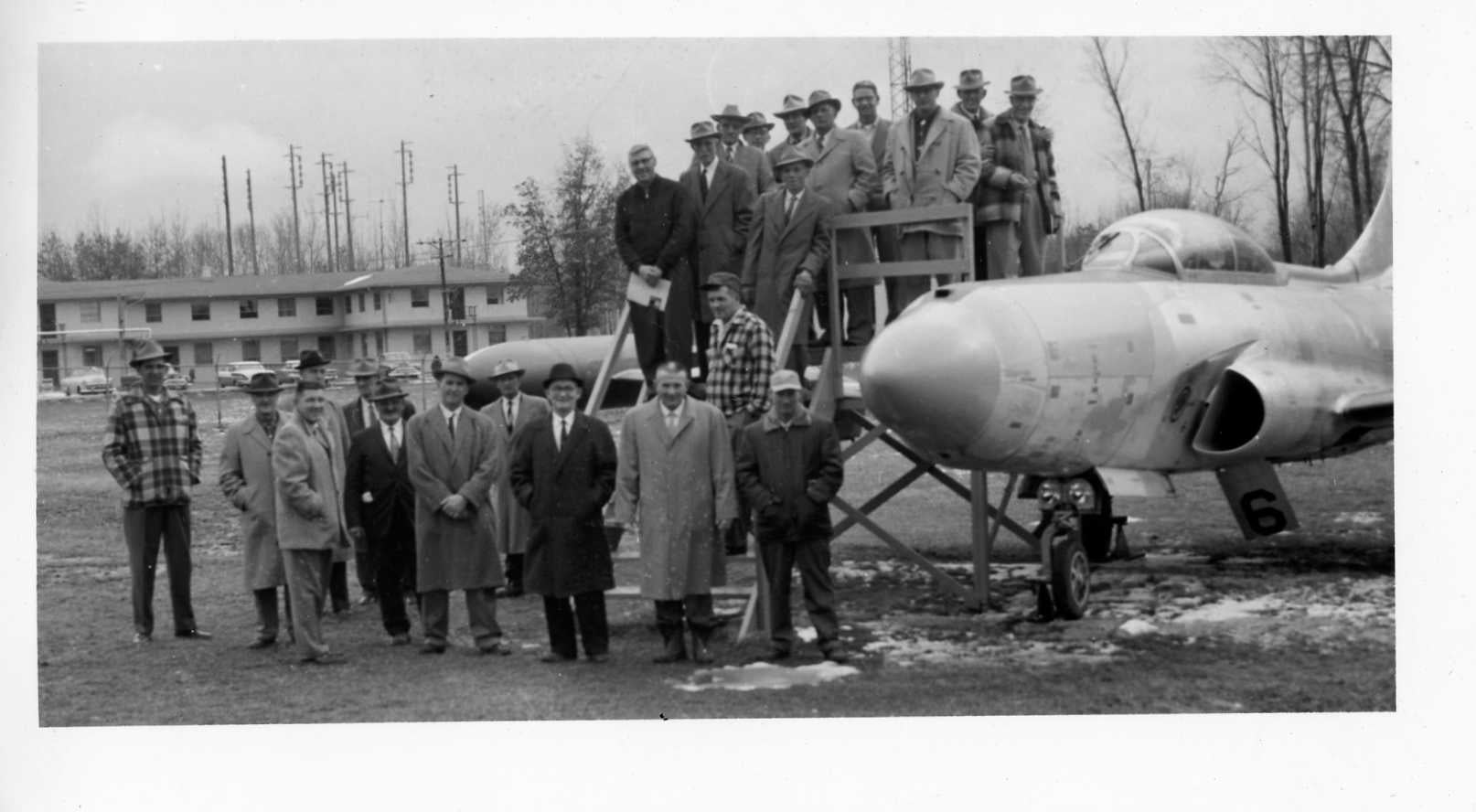 1960s
1961
A combination garage, warehouse and small office building is constructed in the Siren area to serve the northern part of the system.

1964
In June, the first capital credit checks, totaling $55,361, are returned to the members for their patronage from 1938-1950.

1965
In October, groundbreaking ceremonies are held for the present headquarters facilities in Centuria – completion comes a year later.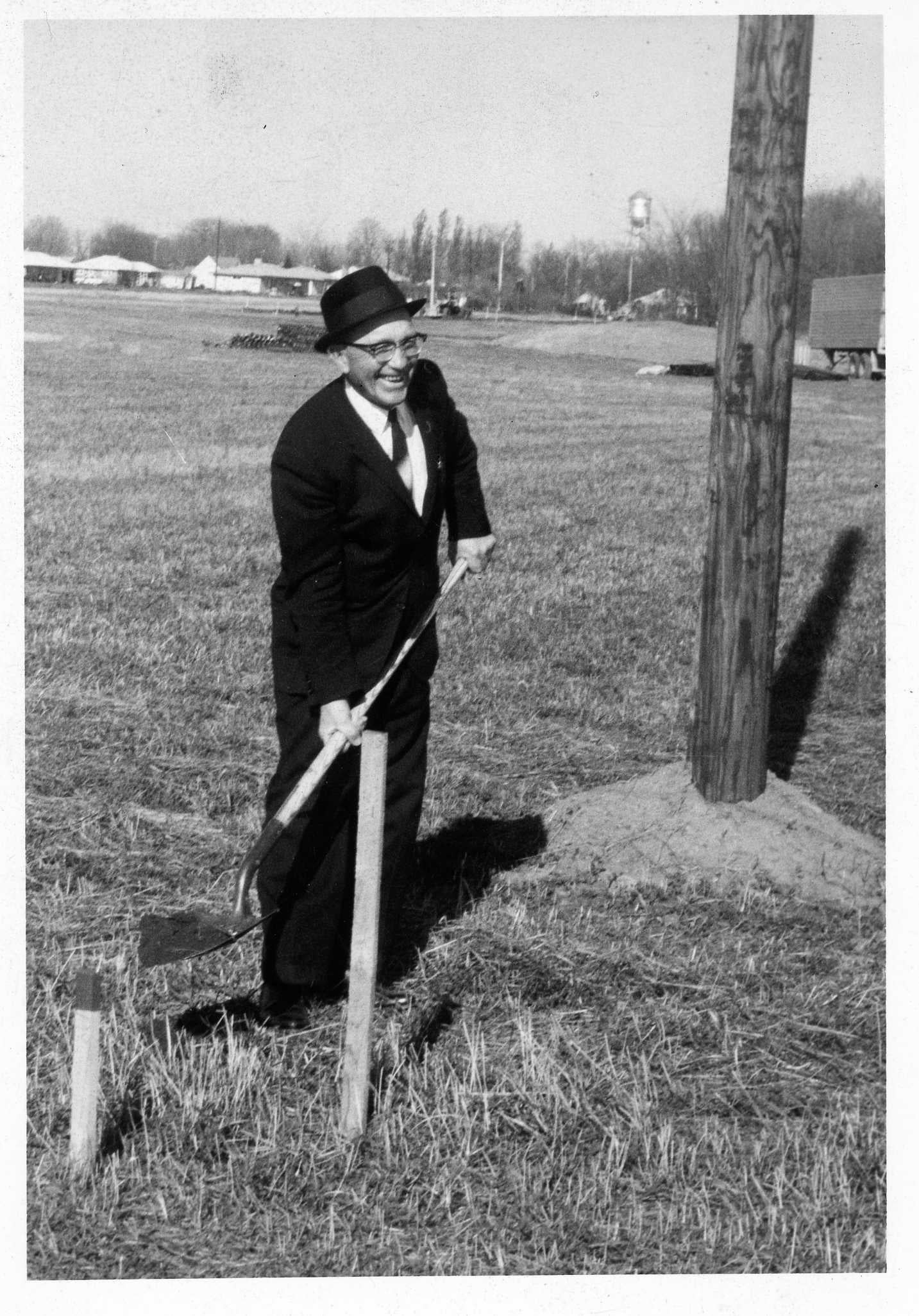 1970s
1970
In December, Polk-Burnett now has 8,960 members and 1,871 miles of line. Employees number 33.

1973
In December, the first two REA mortgages are paid in full.

1979
In February, the office building in Siren is completed and staffed on a full-time basis.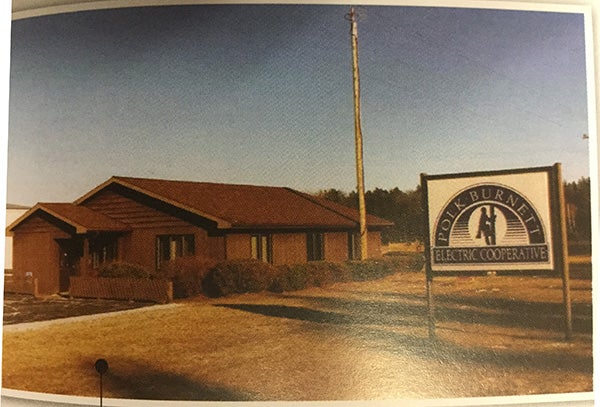 1980s
1980
Off-peak programs are initiated to lower the cost of energy by reducing energy use during periods of high demand.

1985
The co-op has grown to 13,495 connected services and 2,368 miles of line. The co-op is staffed by 45 full-time employees. There are 8,020 farm and residential members.

The co-op now owns many pieces of equipment for building and maintaining lines. This equipment includes: four pole-setting trucks, four basket trucks, three one-ton service trucks, one ½-ton four-wheel-drive truck, five ½-ton pickup trucks, two ¾-ton vans, one two-ton flatbed truck and three trenching machines for underground line construction.

1987
Polk-Burnett begins a scholarship program for the sons and daughters of co-op members. Scholarships are based on community service and are funded by unclaimed Capital Credits that if not used for education would be forfeited to the state.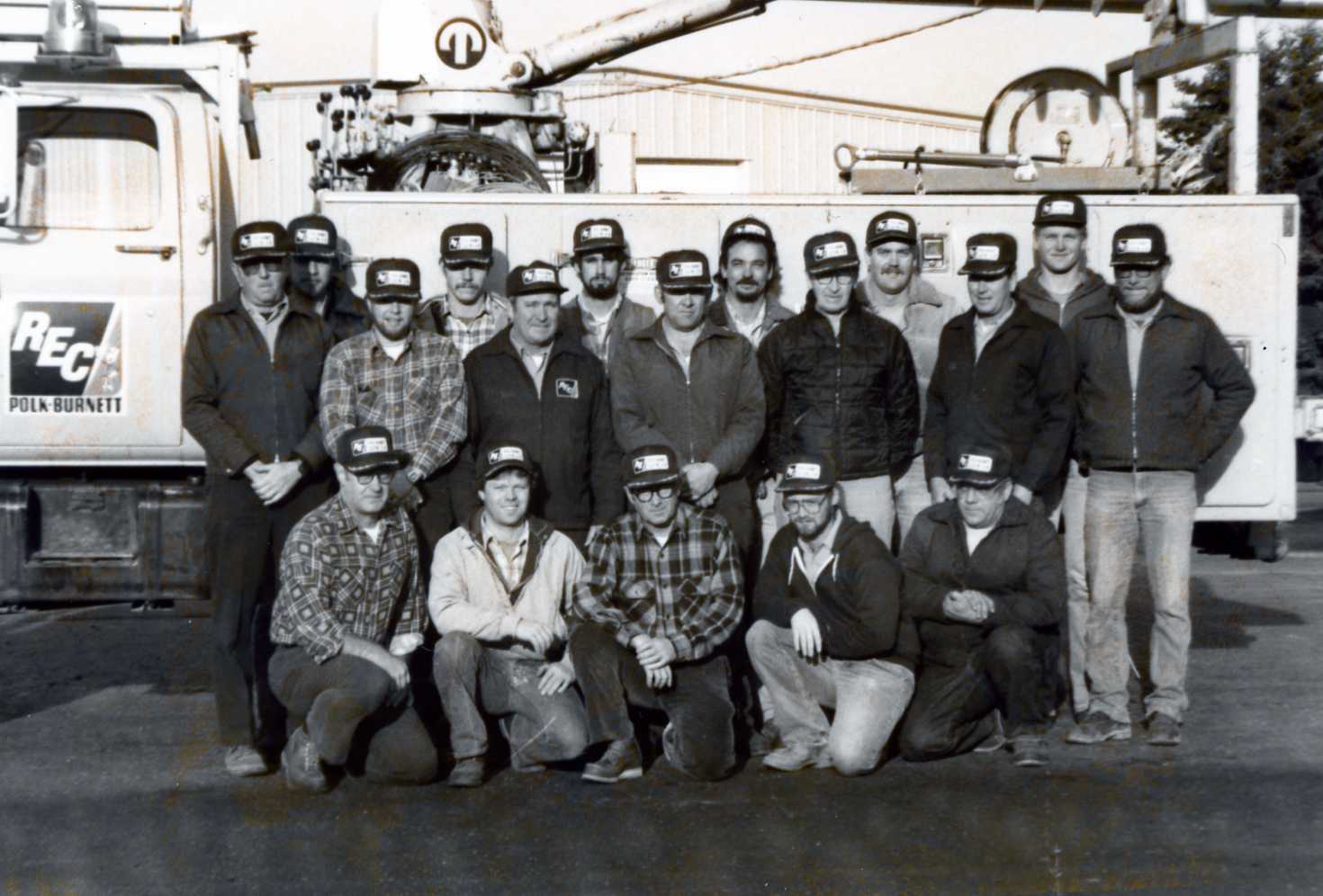 1990s
1991
Polk-Burnett begins security business to protect rural homes, cabins and businesses. PBSS grew to 3,000 accounts and was sold in 2008.

1993
Polk-Burnett joins Cooperative Response Center (CRC), 24-hour telephone answering service for outages and emergencies that occur on weekends, nights and holidays. Before CRC, co-op members called line supervisors at home to report outages. CRC is considered the greatest advance in cooperative service by many current and retired co-op employees.

1995
For a brief period, Polk-Burnett Electric Co-op offers cellular phone service at reduced rates.

1996
Polk-Burnett begins propane business.

Total capital credits returned to members since 1964: $7.9 million.

1997
The Board approves Operation Round Up to donate money to local organizations without impacting rates. Operation Round Up is funded by member-owners of Polk-Burnett Electric Cooperative who volunteer to round up their monthly electricity bill to the next even dollar amount.

Polk-Burnett Electric Cooperative brings more than 400 jobs to local community, and the tax base increases by $6.6 million through economic development activities.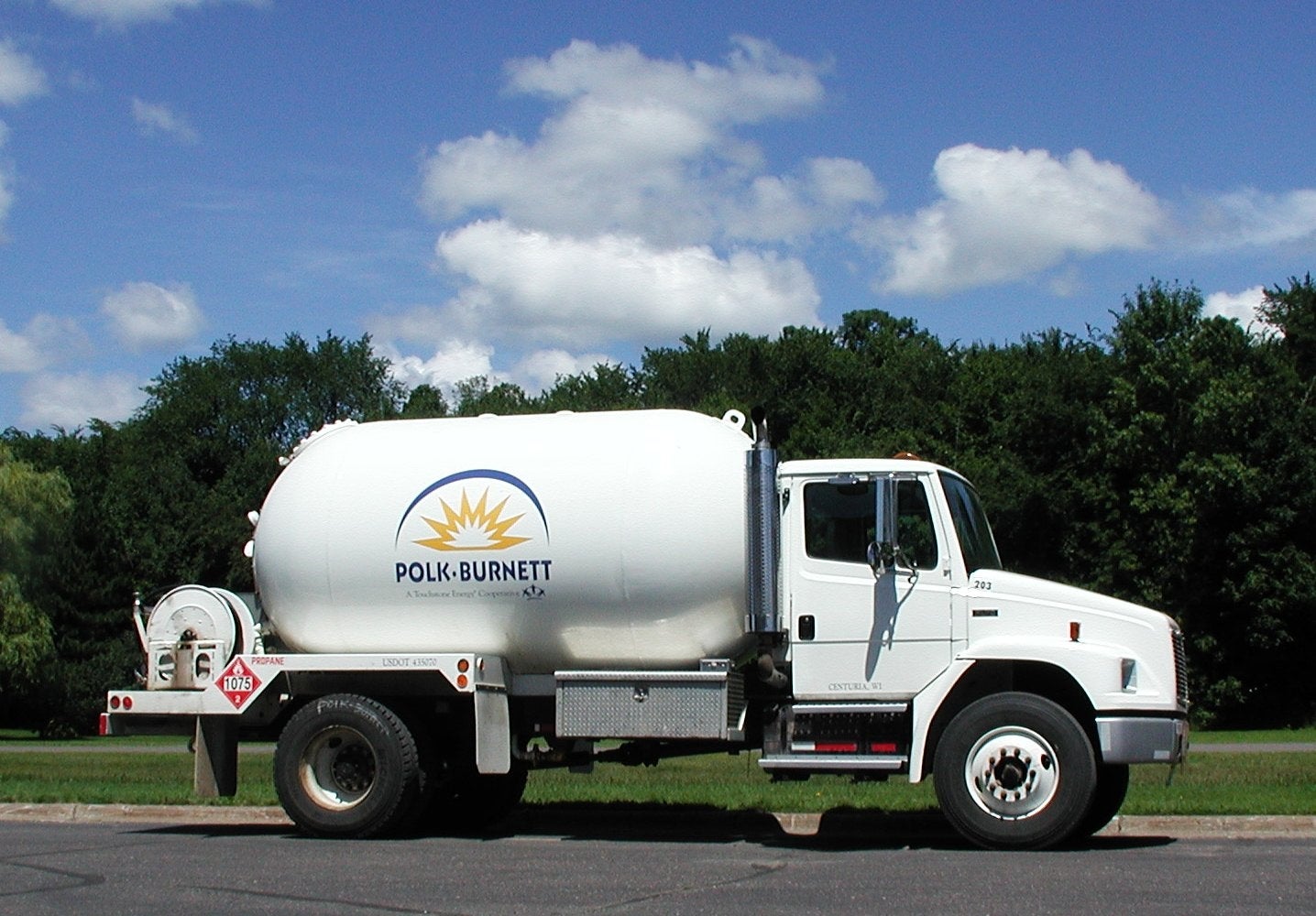 2000 - 2009
2001
In June, the Siren Tornado destroys power lines across Burnett County, leaving thousands of co-op members in the dark and causing about $750,000 in damages to the electric system.

2006
Polk-Burnett holds its first-annual holiday gift drive to make the holiday season bright for local children. Gifts collected in Centuria benefit Polk County Operation Christmas. Gifts collected at the Siren office benefit Burnett County Interfaith Caregivers Christmas for Kids.

2008
Polk-Burnett Security Services (PBSS) is sold to Trans-Alarm, Inc., of Burnsville, Minn.

2009
Polk-Burnett hosts its first Recycle Day for Earth Day in April, helping members keep old electronics, computers and TVs off the grid and out of the landfill.

2010 - 2019
2011
The Burnett County Mega Storm caused widespread damage to co-op facilities and member properties over the Fourth of July weekend. Linemen replaced 215 broken poles and 45 transformers, restoring power to 12,000 members in six days. Right-of-way clearing continued for months to minimize future outages and safety hazards. Polk-Burnett's storm recovery costs totaled $1.5 million.

2012
Polk-Burnett launches PrePay Your Way program, where members can choose to pay for electricity before they use it.

The Summer Shift campaign asks members to conserve energy when costs and demand is highest: weekdays, 11 a.m. to 7 p.m. in June, July and August. By 2014, program awareness is 43% and voluntary participation is 33%.

2013
Polk-Burnett Electric Cooperative celebrates 75 years of providing reliable electricity. The co-op has grown to 20,646 active services and maintains 3,356 miles of power line, with $80 million in assets. Employees number 52. Polk-Burnett Propane employs seven.

The co-op launched a Facebook page.

2013
The year 2013 stands out as a strong year for giving back. Polk-Burnett implemented Rate Relief and lowered the kWh energy charge from June through December, reducing member bills a total of $1,839,516. Rate Relief was possible because of strong electricity sales and a strong commitment to cutting expenses.

Polk-Burnett also returned $804,000 in Capital Credits to members, provided a $360,000 no-interest loan to the Grantsburg Fire Station for economic development, awarded $55,300 in Operation Round-Up grants to worthy causes and awarded $20,000 in scholarships to the sons and daughters of members.

2014
Polk-Burnett purchased a Chevy Volt e-vehicle. It was displayed for members at the annual meeting in June.

Polk-Burnett introduced a community solar program, but it was canceled due to lack of subscriptions.

2015
The kWh energy charge was lowered in January 2015 and there has been no rate increase for members since 2010.
$800,000 was returned to co-op members in September as Capital Credits.

2016
Rate restructuring lowered the kWh energy rate and increased the basic charge from $34 to $36 in January 2016. The change follows rate policy set by the board to allocate costs fairly recover the basic cost of delivering electricity in the basic charge. Rate restructuring did not raise revenue for the co-op; in fact, revenue was reduced by $150,000 this year.

2017
SunTuria Solar opens in Centuria. Polk-Burnett and its power supplier, Dairyland Power Cooperative, develop the area's first utility-scale solar on a 10-acre site behind our Centuria office. The array is built, owned and operated by ENGIE North America (formerly SoCore Energy). The array generates 1.25 MW of solar energy, enough to power 200 homes. Dairyland purchases 80% of solar output; Polk-Burnett purchases the additional 20%. Solar output feeds into Polk-Burnett's distribution system to benefit all members. "The project provides clean, renewable energy at a fixed rate, replacing electricity from fossil fuel sources and providing long-term, stable energy prices," said General Manager Steve Stroshane.

2018
Polk-Burnett celebrates 80 years of service with 80 acts of kindness.

2019
July 2019 tornadoes cause widespread damage across Polk County, including 9,000 power outages. Crews from 11 neighboring co-ops and four contractors assist with storm restoration, replacing 325 broken poles, 114 damaged transformers and clearing 348 miles of right-of-way. All power restored within a week. Recovery costs the co-op $1.6 million. The co-op is grateful for the support and patience of members and the community, as we worked together to rebuild.

Polk-Burnett provides $694,880 zero-interest loan new Alden Fire Station through USDA, saving local taxpayers $350,000.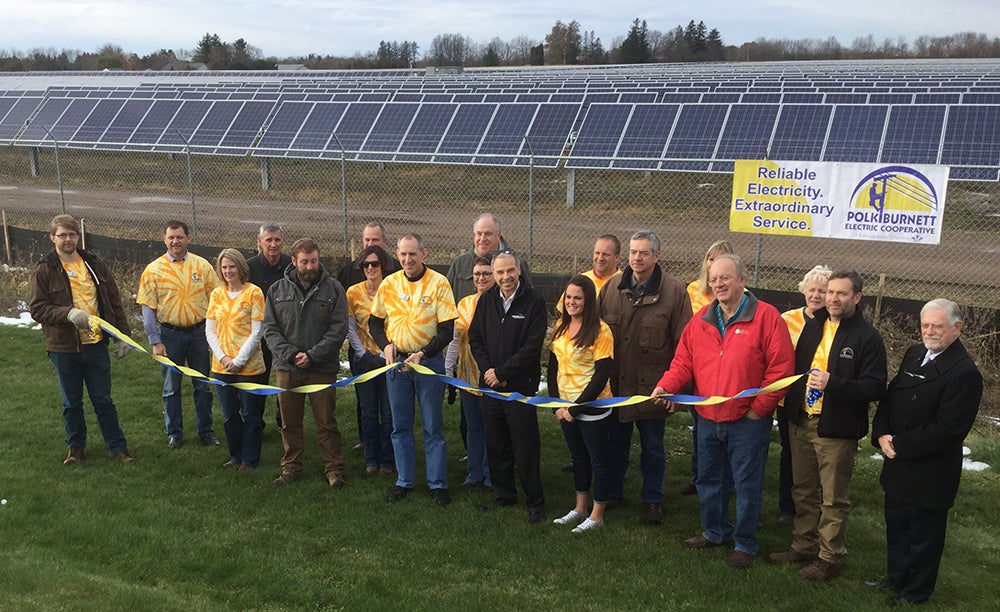 2020 - Present
2020
2020 was a year like no other due to the global Coronavirus pandemic. Co-op employees continued their essential work, delivering reliable power with efficiency and extraordinary service, #PowerOn! Our lobby was closed, but we transitioned to drive-thru and online service, encouraging members to try our SmartHub app and auto pay. Polk-Burnett's 82nd annual meeting was conducted online, with 198 members and guests attending from the comfort and safety of their homes. In 2020, the co-op invested $4.9 million to upgrade and maintain the electric system, and returned $1,450,052 in Capital Credits. Community support was demonstrated with $67,500 in scholarships to the Class of 2020 and $51,458 in Operation Round Up grants to 54 local nonprofits. In 2020, about 20% of the energy that flowed into member homes was from clean, renewable sources. Polk-Burnett also offered rebates for members who installed residential solar and wind, and members could purchase renewable energy blocks through our Evergreen program.

2021
At the beginning of 2021, the co-op had 21,164 electric services and 58 employees, 50 electric and eight propane. Density remained low with just six members per mile of line to share infrastructure costs. More than 10,000 members were enrolled in SmartHub for online account access and more than 10,000 members were enrolled in autopay billing. The co-op maintained 3,463 miles of power line. A major electric grid and meter upgrade began in 2021 to increase system efficiency, improve outage notification and restoration and provide more energy information to members.

2022
Polk-Burnett invested $6.3 million in the electric system, which has grown to 3,447 miles of line and 21,164 electric services. System outages averaged less than one hour per member for the year, excluding major event days. 2022 was a strong year for new construction with 328 new service connections. We completed a two-year meter upgrade, installing 26,000 meters in 2021-22. Polk-Burnett dedicated a new Level 3 EV fast charger at Marketplace Foods in St. Croix Falls. In April 2022, the board approved a special Capital Credit distribution of $1 million, returning high 2021 margins, followed by our regular Capital Credits of $2.28 million in November. Operation Round Up achieved a milestone of $1,000,000 in giving to community nonprofits since its beginning in 1998, thanks to the generosity of members who round up! Polk-Burnett also awarded $77,500 in scholarships to the Class of 2022, with 62 students each receiving $1,250. Co-op employees and directors managed the impact of global inflation and supply chain challenges this year.