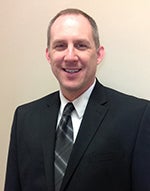 by General Manager Steve Stroshane
Keeping the lights on, making a difference, no rate increase, plus food and prizes make a great annual meeting for electric co-op members
On June 7, Polk-Burnett hosted its 81st Annual Meeting and Member Appreciation Open House. The open house provided fun for all ages, including bucket truck rides, electricity experiments, face painting and selfies with Solar Sam and linemen gear, plus root beer floats, BBQ sliders, donuts, kettle corn and cheese curds from local food trucks. More than 650 members and guests attended.
81st Annual Meeting
General Manager Steve Stroshane and Board President Ed Gullickson reported that the state of the cooperative remains strong: Polk-Burnett delivered reliable power with efficiency and extraordinary service to more than 20,000 electric co-op members, according to its mission. Members heard financial and power quality updates, as well as the status of renewables on the system and how the co-op is making a positive difference in our community.
Making a Difference
Gullickson said that community service is one of Polk-Burnett's core values and the co-op is proud to demonstrate the cooperative difference with $57,500 in scholarships to the Class of 2019 and $57,000 in Operation Round Up grants to 72 local nonprofits in 2018. Beyond financial support, co-op employees performed 680 hours of community service last year.
Renewable Energy
Polk-Burnett is also making a difference by increasing renewables for co-op members. "Each year, Polk-Burnett's power provider, Dairyland Power Cooperative, adds more solar and wind to reduce carbon emissions," said Stroshane. "At present, about 20% of the energy that flows into Polk-Burnett's local distribution system is renewable energy."
Polk-Burnett also offers rebates for members who install residential wind and solar, and co-op members can purchase renewable energy blocks through the Evergreen program.  In addition, the 10-acre SunTuria Solar array in Centuria is generating renewable power for Polk-Burnett members; solar energy output can be viewed on polkburnett.com.
99.97% Reliable
"No matter how your electricity is generated, Polk-Burnett's number one goal is to keep the lights on for its local members," said Stroshane.
In 2018, the electric co-op invested $3.5 million to upgrade and maintain a reliable electric system. The same is planned for 2019. This investment resulted in less than one hour without power per member per year, which puts Polk-Burnett in the top 25% of co-ops nationwide for reliability.
Smart Money Management
57¢ of every dollar collected on Polk-Burnett electric bills goes to Dairyland Power to purchase electricity electric co-op members; just 21¢ pays for operating expenses to deliver electricity to your homes. Another 18¢ goes to pay interest, taxes and depreciation, and 4¢ is operating margins. Total 2018 operating revenue for Polk-Burnett Electric Cooperative was $32,770,000.
"We're working to keep expenses down, and are happy to report that rates will not go up in 2019," said Gullickson. "We have the capacity to pay debt, invest in a reliable grid and return Capital Credits to you."
The complete financial report, 2018 meeting minutes and 2018 audit are posted on polkburnett.com.
Giving Money Back
Polk-Burnett returned $1,225,000 in Capital Credits to members last year. That's a direct benefit of co-op membership. In 2018, members also received $146,664 in EnergySense rebates and saved 1 million kWh of electricity as a result of Polk-Burnett's EnergySense program. "If you want to upgrade your home for comfort and energy efficiency, we can help," offered Gullickson.
Gullickson invited members and guests to follow the co-op on Facebook and Twitter, and visit polkburnett.com to stay in touch. 
All members who attended were entered into a drawing for a TV, iPad and 10 $50 electric bill credits. Members received insulated tote bags and ice scrapers, and kids received $5 DQ cards and co-op coloring books.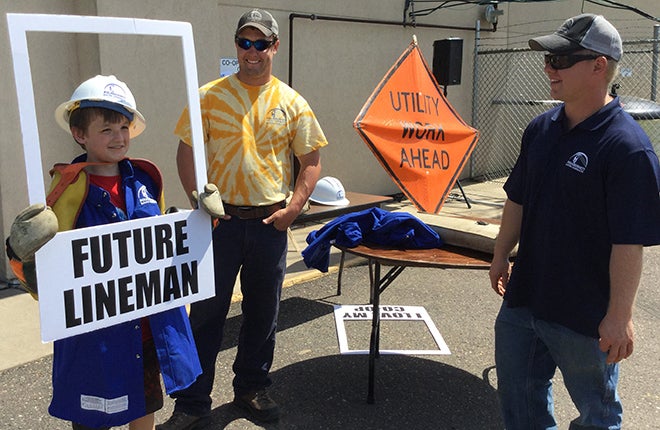 Young guests dressed in linemen gear at Polk-Burnett's member appreciation day. Co-op linemen maintain more than 3,000 miles of power line.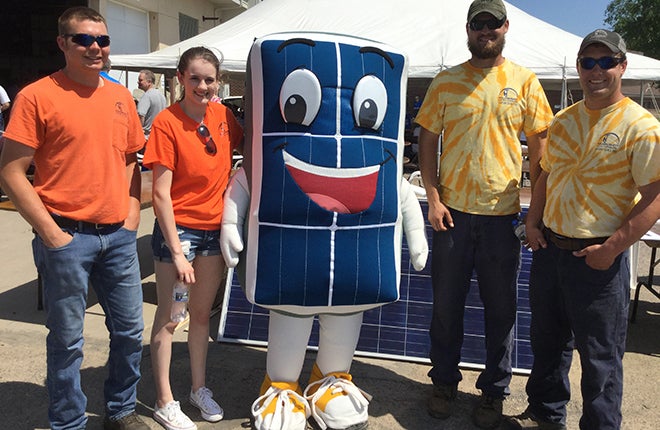 Co-op employees with Solar Sam. Polk-Burnett Electric Cooperative in Centuria is home to the 10-acre SunTuria Solar array.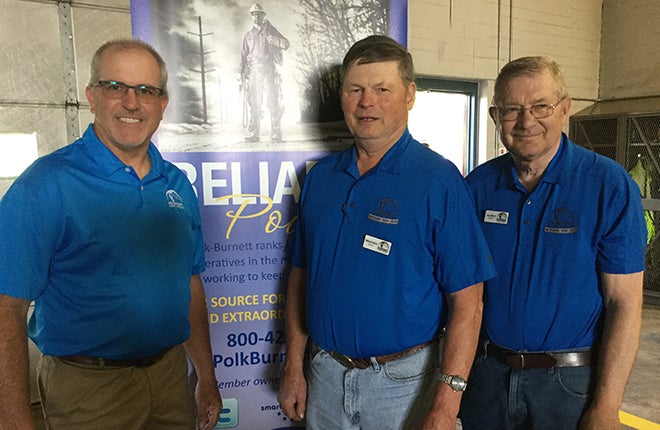 Members of Polk-Burnett Electric Cooperative re-elected three board directors this spring. L-R: Jeff Traynor of Balsam Lake, District 5; Wilfred Owens, Frederic, District 6; and Joe Metro of Balsam Lake, District 4. Voter participation was 17.66% with 997 ballots received. Election results were announced at the June 7 annual meeting.