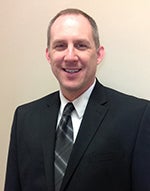 by General Manager Steve Stroshane
We are proud to be aligned with our wholesale power provider – Dairyland Power Cooperative (La Crosse, Wis.) – in our goal to bring members more renewable energy options.
Polk-Burnett is one of Dairyland's 24 member cooperatives. Similar to the way Polk-Burnett is owned by and accountable to our 22,000 members, Dairyland is owned and accountable to its 24 members in four states. Our Board President Ed Gullickson, Amery, serves on the Dairyland Power board of directors, representing the interests of Polk-Burnett and our members. 
Dairyland generates electricity using both traditional and renewable resources to provide an affordable and reliable supply of electricity to our members. Polk-Burnett's SunTuria Solar array is part of Dairyland's growing renewable energy portfolio, which includes hydro (Flambeau Hydroelectric Station near Ladysmith above), wind, biomass and solar, totaling nearly 20 percent of the power we purchase and send to you – our members.
In addition to solar, Dairyland has added 180 MW of wind energy in the past two years from the Barton Wind Farm in Kensett, Iowa, and Quilt Block Wind Farm in Darlington, Wis. Together, these two facilities can power approximately 45,000 homes.
We also offer a green-power program, called Evergreen. Members can voluntarily subscribe to renewable energy for $1 per 100 kWh block, which Dairyland secures above and beyond any state mandates or other requirements. Evergreen is a way for our local members to support additional renewable resources. There are multiple Evergreen opportunities to fit a member's budget or green power goals – up to powering your entire monthly electricity use with renewable energy. Evergreen renewable energy blocks are added to your monthly electric bill.
Polk-Burnett and Dairyland are committed to operating as sustainable cooperatives, while diversifying the types of resources used to power our homes and businesses every day. Our commitment to renewable resources grows each year and we will continue to work together to keep the lights on.