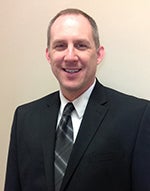 by General Manager Steve Stroshane
Our world increasingly revolves around our homes. Sheltering in place, distance learning and remote work have become a new way of life for many during the COVID-19 pandemic. Connecting with others online for school, work, business transactions, information and entertainment is likely here to stay.
All around your home, electricity from Polk-Burnett is powering the technologies and devices you rely on, whether it's your lights, TV, dishwasher, laptop or phone. Look around your home to see what else electricity can do for you? I'm excited because electricity and new electric products can save you money, increase your comfort and safety, and improve your quality of life.
A new idea, called Beneficial Electrification, is catching on because it helps individuals and our country meet economic and environmental goals. Beneficial electrification means using electricity instead of fossil fuels to power our homes, devices and cars. As electricity becomes cleaner and electric products become more efficient, using electricity is a smart choice.
Choose electric!
Electric equipment that heats your home and water, such as heat pumps and mini splits, are incredibly energy efficient and can reduce your energy costs. Air source heat pumps now work down to -5 degrees. I invite cooks who like the control of a gas range to check out electric induction stoves: they provide immediate heat, boil water faster and create a better cooking experience, with no open flames or combustion fumes. Choosing electric lawn equipment means less noise and exhaust. And imagine an electric vehicle in your future: EVs are fun to drive and good for the environment, with no gas or oil changes!
Electricity is clean and efficient
Electric technology is increasingly meeting our needs better than ever, and because electricity is becoming cleaner and more renewable every day, choosing electricity can help the environment while saving you money. Thanks to new technologies, we have more options than ever to improve our homes and the world around us.
Polk-Burnett promotes the efficient use of electricity with rebates, incentives and off-peak programs. Please contact our member services team to learn more about beneficial electrification and electrify your world today, 800-421-0283, ext. 595.
---
Four pillars of beneficial electrification
Beneficial electrification can be described as the use of electricity to power devices where it satisfies at least one of the following conditions without adversely affecting the others:
1. It saves consumers money over time.
2. It benefits the environment and reduces greenhouse gas emissions.
3. It improves product quality or consumer quality of life.
4. It fosters a more robust and resilient grid.
Examples of beneficial electrification include replacing older, inefficient gas furnaces and water heaters with more efficient electric heat pump technology. Another is our off-peak program, which uses abundant, inexpensive energy at night to charge high efficiency water heaters that maintain water temperature for hours and reduce demand during peak daytime hours. This reduces the need for power generation, lowers energy costs and carbon emissions.