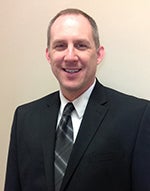 by General Manager Steve Stroshane
Earth Day is one of the largest civic events in the world, and on April 22, we can all be a part of the global effort to help preserve the environment and our local natural resources.
Did you know Earth Day has its roots right here in our part of Wisconsin? Gaylord Nelson, a U.S. Senator from Clear Lake, Wisconsin, is the founder and leader of the first Earth Day in 1970. No matter how you feel about politics, climate change or the green movement, we can all agree that we enjoy our rural lifestyle and the natural beauty of northwestern Wisconsin. In this month's column, I'd like to share some of the things we're doing at Polk-Burnett Electric Cooperative to protect our little corner of the world:
• Renewable energy mix is 20% and growing: Renewable energy makes up about 20% of the energy produced by our wholesale power provider, Dairyland Power Cooperative. Dairyland is diversifying its generation to reduce carbon and be future ready. It has a goal of 29% renewable by 2029. We support sustainable growth of alternative energy, along with long-term energy security and grid reliability for our local membership.
• SunTuria Solar: Dedicated in 2017, SunTuria Solar is the first utility scale solar in our service territory. ENGIE North America (formerly SoCore Energy) owns and operates the array on 10 acres of land leased from PolkBurnett behind our Centuria office. Polk-Burnett and Dairyland purchase the energy output at a fixed rate for 25 years. We're proud of this local solar development because it replaces fossil fuel generation and provides a long-term, stable energy price for our membership. SunTuria Solar has 4,840 panels and powers about 200 homes. Ground under the array is restored prairie and pollinator habitat. To schedule a tour for your school or community group, call us or visit polkburnett.com. You can also track solar energy output on our website.
• Evergreen renewable energy blocks: Do you know that Polk-Burnett offers renewable energy blocks for co-op members who would like to support renewable generation without owning a wind turbine or solar panels? 100 kWh blocks are $1 per month, added to your regular electric bill. Buy one block or enough to power your whole house. Your Evergreen subscription supports efforts to increase renewable generation.
• Home solar and wind: If you are interested in building your own solar array or wind turbine, I encourage you to check with us before you start your project. We can help you consider the size of your system to fit your family's energy needs and safely connect your system to the power grid. We also work with members on a rebate and net metering rate. We support residential solar and wind, but do not purchase excess energy at a rate that increases costs for our other members. Our policy goals are safety, reliability and fairness for all.
There are many ways we as individuals and families can make every day Earth Day. Try these simple tips:
• Seal air leaks around windows and doors with weather stripping and caulk.
• Replace air filters to help your HVAC system run efficiently.
• Upgrade to LEDs to save energy and replacement costs.
• Turn off lights and electronics when you leave the room.
• Only wash full loads of clothes and dishes.
• Apply for EnergySense rebates to help you reduce energy and improve comfort in your home. Rebates are available for renewable energy systems, geothermal and air source heat pumps, EV chargers, and energy efficient appliances and LEDs. One of our best incentives is $300 off home performance testing and up to $1,000 on recommended home upgrades. Last year, co-op members received $162,952 in rebates and saved 860,396 kWhs of energy! I encourage members to take advantage of our EnergySense rebates!
The utility industry and member expectations are changing. One thing that will not change: Co-op members can count on us to deliver safe, reliable electricity with efficiency and extraordinary service. We're always here to serve you and improve our local quality of life.
As we celebrate Earth Day, let's continue to work together to make a positive impact for our community and our beautiful planet. Find more ways to reduce your carbon footprint and save energy on our website, stop by our office when COVID-19 restrictions end or give us a call, 800-421-0283, ext. 595. We're happy to assist you.
Below: Polk-Burnett employees clean up Highway 35 between Milltown and Luck each year.