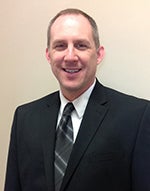 by General Manager Steve Stroshane
I've shared in past newsletters that I'm a fan of technology to improve efficiency, convenience and service. Investing in technology improves our productivity and performance; we are working smarter with less cost. Technology also enables us to deliver many convenient services that are important to today's co-op members, including a mobile-responsive website and online forms, regular Facebook communication, text alerts during power outages and of course, our SmartHub app.
SmartHub helps you access and manage your electric account on your mobile device or desktop computer.
Last fall, Polk-Burnett rolled out a new upgrade for the SmartHub mobile app that helps you access the features you need quickly and efficiently. You'll find everything from payment information to detailed electricity use analysis at your fingertips.
When you connect with us on SmartHub from your mobile device, you'll notice a fresh, new look. And when you open the app, you'll see your electricity use data right up front. You can also contact us with a click of a button right from your home screen.
Outage and bill alerts are also displayed on the home screen, making it easy for you to receive important communication from the co-op. Payments and other features are available with one click from a new menu. We hope these updates will help provide a more user-friendly and efficient experience. All of the features you love about SmartHub are still available, just with a refreshed look and an enhanced member experience.
Paying your electric bill shouldn't be difficult
Life is fast and can be hectic, but it doesn't have to be complicated. Paying your Polk-Burnett bill shouldn't be difficult, and with our SmartHub app, it won't be! As soon as you sign in, you can view your billing history and make payments with just a couple of clicks. You'll see your current bill, along with bills from previous months. The first time you make a payment, you'll be able to securely store your payment information for future transactions. You'll also see important notices on SmartHub, and you can select how you want to be notified about your bill–email or text. Making payments through SmartHub is fast and easy.
See how much electricity you're using on your SmartHub app
Have you ever had questions about your Polk-Burnett electric bill? Do you ever wonder how much electricity you use? SmartHub has the answers. With SmartHub, members can view detailed electricity use, which can help you better understand and manage your monthly electric bill. Put yourself in the driver's seat of your Polk-Burnett electric account. I do, and I recommend it for all our co-op members.
Download SmartHub from your app store or polkburnett.com
SmartHub helps you take control of your Polk-Burnett account like never before. Connect through the web, or Android or iOS smartphone or tablet. You'll be able to pay your bill, view your electricity use, contact us and get the latest co-op news.