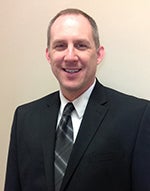 by General Manager Steve Stroshane
With the holiday season upon us and the New Year just around the corner, I can't help but reflect on the gratitude I feel for our co-op members, employees and our community. I think most of you will agree this has been a year like no other–certainly in my lifetime. And while we've seen our share of challenges, I am heartened by the way we've pulled together. The coronavirus hasn't slowed us down. Below is a review of our work in 2020 and a preview of what's to come in 2021:
2020 REVIEW
COVID-19 WORK CONTINUITY: We thank our employees for their essential work to deliver reliable power with efficiency and extraordinary service. And we thank you for your flexibility and understanding as we transitioned to drive-thru and online service. We invite you to try our SmartHub app or auto pay, if you're not already enrolled. Our member service representatives are happy to help you get started!
RELIABLE POWER: We work hard to keep your power on. We know that's your number one expectation, and our goal is less than one hour of outages per member per year. In 2020, we invested $4.9 million to upgrade and maintain the electric system. This year, our line crews:
> Replaced 53 power poles that didn't pass inspection. We maintain 38,000 power poles on system.
> Converted 25 miles of overhead line to underground line.
> Replaced 20 miles of aging underground cable. We maintain 1,717 miles of underground cable.
> Constructed 14 miles of new overhead power line. We maintain 1,695 miles of overhead power line.
> Cleared trees and brush from the right-of-way to improve safety and reduce outages.
Improved grid redundancies and substation equipment, so power can be re-routed during outages.
We're always working to strengthen our system, but weather, animals, accidental dig-ins, car accidents and transmission line failures can cause outages beyond our control. When your lights go out, know that co-op crews are on the way to restore your power quickly. Our priorities are reducing the frequency and duration of power outages, while keeping you informed.
RETURNING $1.45 MILLION TO MEMBERS: In 2020, Polk-Burnett returned $1,450,052 in Capital Credits, including $915,000 to co-op members who purchased electricity in 1999, 2000 and/or 2017, and $535,052 from our power provider, Dairyland Power Cooperative, to members who purchased power in 1992 through 1995. Capital Credits are a direct benefit of co-op membership and a sign of good financial stewardship. As a member-owned, not-for-profit electric co-op, Polk-Burnett operates at cost. Any money left after expenses is returned to members, according to our co-op principles.
$118,958 IN COMMUNITY GIVING: Community service is one of our core values. We demonstrated this in 2020 with $67,500 in scholarships to the Class of 2020 from unclaimed Capital Credits, and $51,458 in Operation Round Up grants to 54 local nonprofits. In addition, co-op employees perform hundreds of hours of community service each year, and we are proud to be a new sponsor of the WE ARE Network. Our sponsorship helps make it possible for the internet streaming service to broadcast live sports and events for nine local school districts.
ELECTRICITY IS A SMART CHOICE: We are pleased to offer a growing renewable energy supply to our members through Dairyland Power Cooperative, our La Crosse-based power provider. Each year, Dairyland adds more solar and wind generation to reduce carbon emissions. At present, about 20% of the energy that flows into your home is from clean, renewable sources, and that number is growing. Polk-Burnett also offers rebates for members who install residential solar and wind, and you can purchase renewable energy blocks through our Evergreen program. On a bright note, our Centuria office is a 100% green facility! Our 2020 electricity use was offset with energy from renewable sources. As electricity becomes greener, it's a smart choice. Look around your home to see what else electricity can do for you.
2021 PREVIEW
ELECTRIC GRID & METER UPGRADE: I am excited to announce that the co-op is working on an electric grid and meter upgrade to provide even better member service and reliability for you. The upgrade includes deployment of a new metering system, remote-controlled equipment in the field, the ability to install future line sensors and software platforms to manage the technology.
Over the next two years, more than 21,000 meters across the system will be replaced with new technology. Your existing meter is outdated and our supplier has stopped making replacement parts. We see this as an opportunity to benefit the co-op and our members. Benefits of the upgrade include:
> Replacing aging infrastructure
> Increasing system efficiencies
> Improving outage notification and restoration
> Providing more energy information for our members
Watch for more information about the project in the coming months; we'll be sure to notify you when we upgrade your meter.
Our goals for 2021 continue to focus on improving our value for you and our community. In 2021, you'll hear more from us about the meter upgrade, beneficial electrification and improving reliability while holding down costs. In all our efforts, our co-op business model is mission-based and puts people first. We thank you for your membership and invite you to reach out to us if we can assist with your electric service.