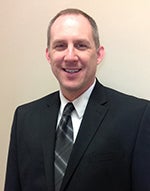 by General Manager Steve Stroshane
We greatly appreciate our connection to you, the 21,000 members we serve. As we begin a new year, we'd like to help you maximize the value you can get from Polk-Burnett through a variety of programs, products and services:
For example, we can help you save money on your electric bill with our EnergySense rebate program and home performance tests.
When you download our SmartHub app, you can monitor and manage your home energy use, pay your bill online, view and report power outages, and even read this Powerlines newsletter. Once enrolled, you can choose how you'd like to be notified by selecting email or text preferences.
When you follow Polk-Burnett on Facebook, you can stay up to date on power restoration efforts, co-op director elections and tips to save energy and money. You'll also see photos of our line crews in action and employees helping with community service projects; we all enjoy seeing good things happening in our hometown!
When you sign up to receive outage text alerts, you will know when the power is out at your location, as well as when it's restored, and if possible, the cause of the outage. For longer outages, we'll text an estimated restoration time, whenever possible, so you can make plans for you and your family.
Another way we are improving our connection to members is with our electric grid and meter upgrade. The project was announced in our December Powerlines. Over the next two years, more than 21,000 meters across the system will be replaced with new technology. Your existing meter is outdated and our supplier has stopped making replacement parts. We see this as an opportunity to benefit the co-op and our members by 1) replacing aging infrastructure, 2) increasing system efficiencies, 3) improving outage notification and restoration and 4) providing more energy information for our members. Watch for more information in the coming months; we'll be sure to notify you when we upgrade your meter.
Providing you with accurate and timely information in person, over the phone, by mail and online is important to us. We don't want you to miss out on potential savings or notifications! That's why we want to make sure we have your most current contact information. Updated contact information can even speed up the power restoration process during an outage! When you call to report an outage, our system can predict the number and location of affected homes across the system, as well as the possible cause of the outage, making it easier and faster for Polk-Burnett crews to fix the problem.
We hope you will connect with us whenever and wherever you can: Whether you attend our annual meeting, provide survey feedback, visit our drive-thru, call a co-op employee or download our app! We exist to serve our members, and when we're better connected, we're better prepared to answer your call and meet your expectations. To update your contact information or learn more about co-op programs that can help you, visit polkburnett.com or call us at 800-421-0283.
We look forward to connecting with you!