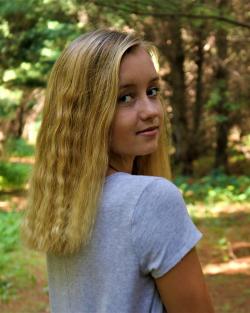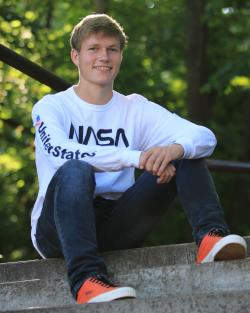 Hannah Orf and Nick Erickson were chosen as Polk-Burnett delegates for the 2020 Electric Co-op Youth Tour of Washington, D.C. Due to the COVID-19 pandemic, their trip has been postponed until next summer.  Orf is a 2020 graduate of Turtle Lake High School and Erickson is a 2020 graduate of Amery High School. Both are also Polk-Burnett scholarship winners and will receive $1,250 for college in the fall.
---
Congratulations to Hannah Orf of Turtle Lake and Nick Erickson of Amery! These local grads were selected to represent Polk-Burnett Electric Cooperative as delegates for the 2020 Electric Co-op Youth Tour of Washington, D.C., June 19-25. This year's Youth Tour was canceled due to the COVID-19 pandemic, but the co-op will hold their award for 2021.
"Postponing the trip until next year is disappointing for these graduating seniors who are already missing out on so much, so we want to be sure to recognize them and celebrate this achievement," said Polk-Burnett Communications Director Joan O'Fallon. "The decision was made to cancel travel arrangements in early April to help stop the spread of the virus, and protect the health and safety of the Youth Tour delegates and the public."
If their schedules permit, Orf and Erickson have been invited to join more than 1,500 high school students from co-ops across the country next summer to learn about cooperatives, the rural electric program, U.S. history, government and democracy. They will meet with congressional leaders and tour Capitol Hill, national monuments, Arlington National Cemetery and the Smithsonian Museums. The tour is hosted by the National Rural Electric Cooperative Association (NRECA) and the Wisconsin Electric Cooperative Association (WECA), with local sponsorship by Polk-Burnett Electric Cooperative.
To be selected as Polk-Burnett's delegates for the Electric Co-op Youth Tour, both students demonstrated community involvement, and wrote essays about the value of electricity and why they wanted to be Youth Tour delegates.
Orf is a 2020 graduate of Turtle Lake High School and the daughter of co-op member Dan and Jessica Orf
Orf's application included community service at Grace Community Church and 4-H. In her essay, she wrote, "I am proud of my country and humbled by the sacrifices of all those who have gone before me to make this land so great and free…. It's our responsibility to know the history of the past, so we can make good choices for the future." In her essay about America's energy future, Orf wrote about last July's tornadoes that damaged homes and property in her hometown and caused in major power outages. "I had no idea how much electricity my family used for everyday functions… we rely on electricity more than we realize…. I desire for the United States to find environmentally friendly sources of energy that will guarantee a safe and bright future for future generations."
Erickson is a 2020 graduate of Amery High School and is the son of co-op member Mark and JoAnn Erickson
Erickson's application included community service at Trinity Lutheran Church and Lake Wapogasset Dinner Theater. In his essay, he wrote that the experience would "bring historical figures and government class to life. I would definitely enjoy seeing the topics I've studied for hours in the classroom with my own eyes." He also wrote, "I have high hopes for America's energy future. I'd like to see renewable energy sources take over as the nation's leading source of electricity in order to secure a healthier tomorrow… Additionally, I want to see these sources help to keep electricity affordable for everyone. I'm beyond thankful I have an affordable energy solution where I live, because my life is enriched every day by electricity."
"As a rural electric co-op, Polk-Burnett is pleased to support youth leadership opportunities for the children of our members, according to our cooperative principles," said General Manager Steve Stroshane.
Polk-Burnett's Youth Tour program does not affect electric rates
Youth Tour is funded with unclaimed Capital Credits that if not used for education, would be forfeited to the state. Members may also donate their Capital Credits to Polk-Burnett's scholarship and Youth tour fund.