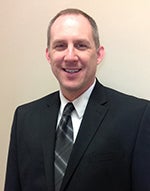 by General Manager Steve Stroshane
Part 1: Move your service line out of harm's way
As we enter summer storm season again, we thought we would pass along a lesson learned from the July 2019 severe storm. If a homeowner wants some protection against a storm-caused outage, converting your overhead service to underground is one step that can be taken. If your meter socket is damaged during a storm, the homeowner has to find an electrician to make the repairs to the meter socket. Polk-Burnett crews will then come and repair the overhead wires. However this can take time after a major storm, as electricians are in high demand and linemen are initially focused on restoring substations, followed by main lines that affect the greatest number of members, before repairing lines to individual members. Below is a proactive approach and one that I just did at my own cabin.
Fee-based conversion of your electric service line from overhead to underground
Polk-Burnett works hard to strengthen its system and prevent power outages, but storms are always a threat. Wind, lightning, snow and ice can damage overhead power lines and cause outages. To help you reduce this risk, co-op members may choose to convert individual electric service lines from overhead to underground. This is an option for co-op members for an additional fee. Your service line connects your home to the transformer and primary power lines.
Three benefits of underground service
1. Reduces outages, blinks, and damage to your meter socket and mast caused by tree branches and severe weather.
2. Eliminates the need for right-of-way clearing under individual service line on your property.
3. Looks better! No more power lines over your yard. Your power may still be affected by an underground fault or outage down the line, but overall reliability improves.
Underground installation fee
Members pay for the service line upgrade to your home. Installation requires trenching or plowing, and may require a padmount transformer box or pedestal.
Contact us to get started
A co-op staking engineer will determine the best route for an underground power line on your property, and we will quote your cost for conversion. Contact our operations team to get started, 800- 421-0283, ext. 308 or 365.
Part 2: Tree trimming improves service for all
We all enjoy the beauty of Wisconsin and the trees that offer shade and habitat for birds and wildlife. But when trees interfere with power lines, they can cause power outages and safety hazards. As your local electric cooperative, Polk-Burnett strives for balance in protecting our beautiful surroundings, while ensuring a reliable power supply. Our goal is to maintain the rights-of-way under power lines to keep power flowing safely to your home. Right-of-way maintenance is intended to keep tree branches and brush away from high-voltage power lines. This ensures fewer blinks and outages, improved access for faster restoration times, and less risk of fire and life-threatening electrocution.
What's a right-of-way?
A right-of-way is the land we use to construct, maintain, replace and repair underground and overhead power lines. The right-of-way is a space that is clear of trees and other obstructions that could hinder or harm power line operation. Polk-Burnett is responsible for maintaining the power lines and managing the growth of trees and vegetation in the right-of-way.
Three benefits of a clear right-of-way
The goal of keeping the right-of-way clean and clear is to provide safe, reliable power to our members, while protecting the natural beauty of our community. Proactive vegetation management and tree trimming benefits co-op members in three ways:
1. Safety: First and foremost, we care about our members and put your safety and that of our lineworkers above all else. Overgrown vegetation and trees pose a risk to power lines and people. For example, if trees are touching power lines in a member's yard, they can pose grave danger to families. If children can access those trees, they can potentially climb into a danger zone.
2. Reliability: Proactive tree trimming diminishes the chances of fallen branches and trees during severe weather. Generally speaking, healthy trees do not fall on power lines, and clear lines don't cause problems.
3. Affordability: As you know, Polk-Burnett is a not-for profit cooperative, and that means we strive to keep our costs in check to hold your rates down (the last rate increase was in 2010). Controlling costs extends to our right-of-way program. If trees grow too close to power lines, the potential for expensive repairs increases. Our right-of-way program is an investment that pays back in reducing costly outages and repairs.