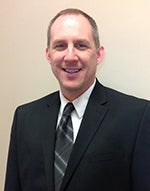 By General Manager Steve Stroshane
We all love trees for their beauty, shade and habitat, but this picture, top, is a reminder that trees can cause outages and safety hazards when they're too close to power lines. This was taken during an ice storm last March, when a tree fell on the power line south of Trollhaugen. It caused an outage for 282 co-op members. Lineman couldn't access the area with a bucket truck, so they hiked in with a chainsaw to repair damage and restore power.
Our right-of-way clearing program is an investment that keeps trees away from power lines to help prevent forest fires and power outages, and keep everyone safe. We thank our tree crew, and our members for your support!
It's good to see co-op workers on your property
In addition to right-of-way clearing, Polk-Burnett employees and contractors also work throughout our service territory inspecting equipment. At bottom, inspectors are testing power poles for damage. Poles that are not up to standards are replaced to ensure reliable electricity for co-op members. Polk-Burnett maintains 38,000 power poles across our system! 
It's good to see co-op workers in the rights-of-way and easements, and across your private property and driveways. Our efforts to ensure reliable power for you and your neighbors mean we must cross your property from time to time. You may see us:
> Making routine repairs
> Replacing meters
> Trimming trees and brush
> Locating buried utilities for construction and digging projects
> Working to upgrade poles, wires, transformers and equipment
> Inspecting power poles, lines, transformer boxes and equipment
---
All field work, except emergency power restoration, is conducted during normal working hours, 7:30 a.m. to 4 p.m. Monday through Friday. Every effort is made to avoid damage and unnecessary intrusion. If you have concerns about our work, contact us at 800-421-0283. We appreciate your cooperation.