Annual Meeting Recording (YouTube Video, 1:05. Meeting begins with 60-sec video, The Power of Membership.)
Q&A Member Forum Summary
2020 Annual Meeting Minutes
Financial Report
2020 Audit
Meter Upgrade FAQs
Operation Round Up Annual Report
2020 Operation Round Up Grants
2021 Co-op Scholarships
Polk-Burnett At-A-Glance
---
Polk-Burnett Electric Cooperative held its 83rd annual meeting Friday, June 11, at 1 p.m. The meeting was online, with 111 members logged in.
The meeting included a state-of-the cooperative report, results of the 2021 board election and a Q&A forum, where members shared more than 50 comments and questions during a half-hour online chat with General Manager Steve Stroshane.
"Whether we are online or in person, the annual meeting is an important way for co-op directors, employees and members to connect, learn about co-op performance and provide feedback. As a cooperative, we are accountable to our members and they have a voice in how the co-op operates," said General Manager Steve Stroshane. "We are always looking to improve our service to our members and community and we appreciate your input."
Polk-Burnett Board President Ed Gullickson called the meeting to order at 1 p.m. and announced that two bylaw amendments, one on director qualifications and one on annual meetings, were removed from the agenda and will be deferred until next year, when they will be better communicated.
General manager reports on state of the cooperative
Stroshane reported on the cooperative's service and reliability. The cooperative invested $5 million to upgrade and maintain the electric distribution system in 2020.  The system includes 1,796 miles of underground cable, 1,651 miles of overhead power line and 38,000 poles. Beyond the regular construction work plan, the cooperative is working on an electric grid and meter upgrade. During the next two years, 26,000 meters will be replaced with new technology, as our existing meters are outdated and our supplier has stopped making replacement parts.
Polk-Burnett is financially solid, and the co-op is efficient and effective at holding down costs, while providing member-owners with reliable power and extraordinary service.  After 12 years without a rate increase, Stroshane stated that rates will likely go up in 2022.  In 2020, Polk-Burnett retired $1.6 million in Capital Credits to co-op members.  The co-op showed $101 million in assets and $36.7 million in operating revenue for 2020; consolidated net margins were $4.6 million. Polk-Burnett sold just over 238 million kilowatt hours of electricity, and the cost to purchase power was $18.8 million. Stroshane stressed that $0.57 of every dollar Polk-Burnett collected goes to the cost of purchased power. The complete financial audit for 2020 is posted on polkburnett.com.
"As we look to the rest of 2021 and plan for 2022, our focus is to balance reliability goals with the goals of keeping costs and carbon down," said Stroshane. "Reliability, affordability and sustainability are a balancing act that your co-op board and I work on every day for our members."
The cooperative supports local youth and community by awarding $67,500 in scholarships to the sons and daughters of co-op members, the Operation Round-Up program awarded $51,458 to 54 local, non-profit organizations. Co-op employees performed 500 hours of community service in 2020.
Three incumbents re-elected to co-op board
System counsel Timothy Laux announced the results of the 2021 membership election of directors from Districts 7, 8 and 9. The election was conducted by mail and web ballot, yielding a participation rate of 16.6%. In District 7, unopposed Jerry Okonek received 450 votes. In District 8, Chuck Brookshaw ran unopposed and received 315 votes. In District 9, unopposed Tom Swenson received 283. The three incumbents were re-elected, with three-year terms beginning June 28, 2021.
"Electric cooperatives are unique because we are owned and governed by the members we serve. Local board governance is one of the greatest advantages of our co-op business model," said Stroshane.
To conclude the meeting, Stroshane answered questions from members through the online chat. Topics included the co-op's meter upgrade project, scholarships, underground power lines, rebates, broadband, cybersecurity and seasonal representation on the board. Questions and answers are available on the cooperative's website, along with all handouts and the meeting recording.
Attendance drawings for 10 $50 energy credits were randomly drawn from all members who attended the annual meeting, and winners are also posted on the website.
For members who couldn't attend online June 11, the annual meeting was recorded and can be viewed on our website (below). Printed reports are also upon request.
Polk-Burnett is a not-for-profit, member-owned cooperative that provides reliable electricity with efficiency and extraordinary service to 20,000+ homes, farms and businesses in northwestern Wisconsin.
---
Attendance Prize Winners
Congratulations to the following members, whose names were randomly drawn for a $50 electric bill credit:
Dawn Western, Osecola
Ronald & Sharon Pearson, Frederic
Corby Manes, Comstock
Joel Anderson, Amery
Denise Skjerven, Osecola
Linda Glenn, Luck
Jeff Moats, Frederic
Brenda Westling, Siren
Marna   Johnson, Webster
Cammie Verdeja, Somerset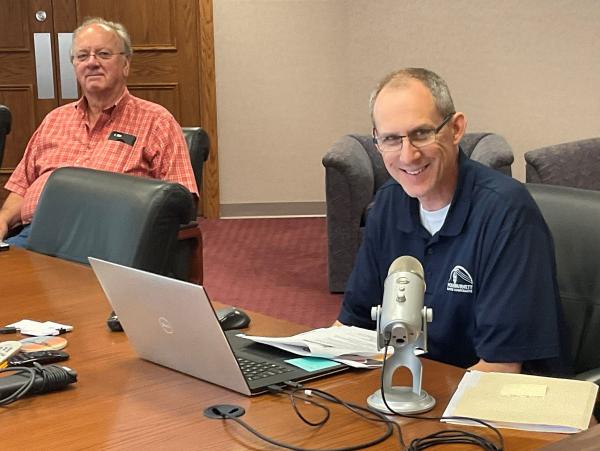 Polk-Burnett held its 83rd annual meeting online June 11. More than 100 members logged in to hear a cooperative report and participate in a Q&A forum with General Manger Steve Stroshane, right. Board President Ed Gullickson, left, welcomed members and called the meeting to order. He concluded the meeting by inviting co-op members to an in-person Member Appreciation Day August 13.
---
Annual Meeting Recording (YouTube Video, 1:05. Meeting begins with a 60-second Power of Membership video.)
Q&A Member Forum Summary
2020 Annual Meeting Minutes
Financial Report
2020 Audit
Meter Upgrade FAQs
Operation Round Up Annual Report
2020 Operation Round Up Grants
2021 Co-op Scholarships
Polk-Burnett At-A-Glance